U.S. News and World Report Ranks UConn's MS in Nursing one of the Best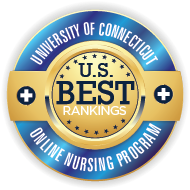 Did you know that in 2022, UConn's online nurse practitioner Master of Science in Nursing was ranked number 1 in New England and number 8 nationally? UConn's MS in Nursing philosophically embraces a wide range of curricula, bringing a broad spectrum of concentrations to the Field of Nursing. The Family Nurse Practitioner (FNP) online concentration is one among six highly sought after foci available to its students. UConn's School of Nursing is extremely proud to offer one of the nation's best online nurse practitioner MS in Nursing degrees and congratulates all of the students, graduates and faculty for this highly acclaimed status.
Learn More About the MS in Nursing USNWR Award
In this UConn Today article, writer Mikala Kane highlights the U.S. News and World Report best online MS in Nursing ranking. Learn more
Are you seeking one of the best Family Nurse Practitioner (FNP) degree programs designed to take your nursing career to the next level?
Look no further than the University of Connecticut.
UConn's online FNP degree program is consistently ranked among the best in the country, thanks to comprehensive curriculum, experienced faculty, and hands-on clinical experiences. With coursework covering everything from advanced pathophysiology and pharmacology to health promotion and disease prevention, UConn students gain the knowledge and skills needed to provide high-quality primary care to patients of all ages.
As a student in UConn's program, you'll gain access to UConn's distinguished faculty, who are leaders in the field of nursing and committed to helping you succeed. Further, you will benefit from a flexible online format, which allows you to balance your studies with your work and family commitments without having to relocate.
In addition to a top-notch education, UConn's online FNP degree program offers clinical experiences in your local area, giving you the opportunity to gain hands-on experience working with patients in real-world settings. This combination of academic rigor and practical experience prepares graduates for success in a variety of roles, from primary care providers to healthcare leaders.
Don't settle for less than the best when it comes to your nursing education.
The University of Connecticut's online FNP degree program – your steppingstone towards a bright and rewarding future.