U.S. News and World Report Ranks UConn's MS in Nursing one of the Best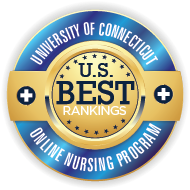 Did you know that in 2022, UConn's online nurse practitioner Master of Science in Nursing was ranked number 1 in New England and number 8 nationally? UConn's MS in Nursing philosophically embraces a wide range of curricula, bringing a broad spectrum of concentrations to the Field of Nursing. The Family Nurse Practitioner (FNP) online concentration is one among six highly sought after foci available to its students. UConn's School of Nursing is extremely proud to offer one of the nation's best online nurse practitioner MS in Nursing degrees and congratulates all of the students, graduates and faculty for this highly acclaimed status.
Learn More About the MS in Nursing USNWR Award
In this UConn Today article, writer Mikala Kane highlights the U.S. News and World Report best online MS in Nursing ranking. Learn more
To explore the specific USNWR criteria used to deem UConn's online MS in Nursing a best program, please visit US News and World Report (https://www.usnews.com/education/online-education/nursing/rankings).