Family Nurse Practitioner (FNP) Online Degree
FNP Training for Nurses Seeking to Provide Primary Care for Every Stage of Life

The FNP online concentration is a part of UConn's Nursing master's and doctoral online degree programs. To learn about all of UConn's online Nursing concentrations, visit https://nursing.online.uconn.edu/.
The Family Nurse Practitioner (FNP) online Master of Science (MS) and Doctor of Nursing Practice (DNP) program at The University of Connecticut prepares advanced practice nurses to assess, diagnose, monitor, treat, and coordinate the care of individuals across the lifespan within the context of family and community in primary care settings.
The program is designed for licensed registered nurses who currently hold a bachelor's degree and aspire to become advanced practice nurses. You may choose either the 48-credit Master of Science (MS) degree or the 84-credit Doctor of Nursing Practice (DNP) degree.
This completely online FNP program is taught by the UConn School of Nursing faculty, all highly experienced practitioners in their field.
Graduates of this concentration are prepared to apply for eligibility for the FNP Primary Care certification examination prepared by an approved national organization as accepted by the Board of Registration in Nursing. The FNP online master's and DNP degrees are not approved for students residing outside of the United States.
Note: With exceptional success, between 2013 and 2020, 100% of UConn FNP graduates passed their American Association of Nurse Practitioners (AANP) or American Nurses Credentialing Center (ANCC) certification examinations on their first attempt.
What Is a Family Nurse Practitioner?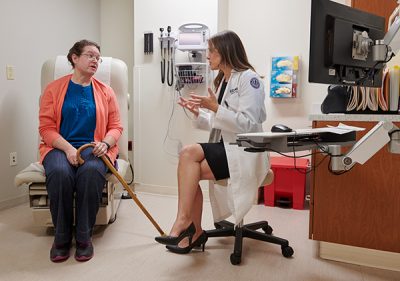 Today's family nurse practitioners (FNPs) provide comprehensive patient-focused primary care to individuals across the lifespan—from infants to the elderly. Their focus includes delivering preventive healthcare services for both acute and chronic conditions, requiring them to diagnose and treat illnesses, perform routine checkups, oversee health-risk assessments, and offer counseling services.

FNPs generally work in primary care practices including women's health, family practice, pediatric, and internal medicine clinics. Often FNPs are found in outpatient settings like independent practice clinics, women's health centers, and community health clinics.

Job opportunities are abundant for FNPs because of their ability to work in a spectrum of clinical settings. It is common for FNPs to collaborate with healthcare and social service professionals in numerous settings, such as schools, workplaces, and community-based organizations. And FNPs tend to enjoy traditional work hours like those of a physician offices.
Days Until Application Deadline
The application for the Fall 2021 semester is currently closed; the program is filled to capacity. Please join our mailing list. We will notify you once the Fall 2022 application is available.
The FNP MS and DNP program only accept students within the fall semester. Please submit materials no later than January 15 to begin the following fall semester. The fall application opens mid-September of each year. Late applications will not be considered.